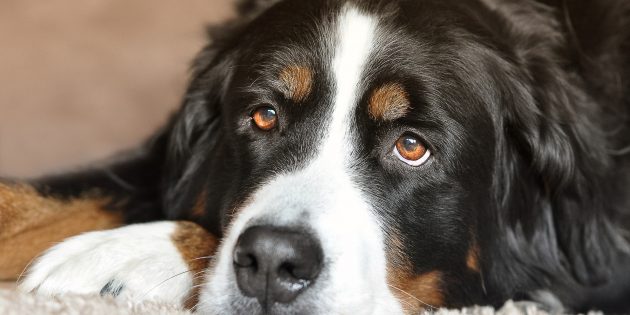 Non-infectious osteoarthritis is the most common form of joint disease in an aging dog, a situation not too different from that in humans.
Primary arthritis develops from the normal wear and tear of a joint with time and age. Whilst seen mostly in older dogs the disease is progressive and causes few, if any, noticeable symptoms in the early stages.
However, on some occasions it may be possible for a veterinarian to pick this up during a routine examination of your furry friend.
What Are The Symptoms Of Arthritis?
Whilst in the early stages, you may not see any noticeable symptoms, here are a few to look out for:
Swelling and tenderness
Stiffness, particularly when getting up from rest
Appears reluctant to walk, jump or play
Sleeping and resting more
Lagging behind on walks
Taking longer to settle
Licking or chewing a particular joint
Limping or protecting certain joints
Understanding Secondary Disorders
The bulk of aging dog arthritis cases are secondary to disorders which may have happened or started earlier in life.
The following are just a few of the many such secondary disorders:
Obesity in any breed but especially in large and giant breeds
Falls or jumping awkwardly
Torn ligaments in joints
Chronic dislocating patella (slipped knee cap), most common in toy breeds
Osteochondritis dissecans, a disease of young dogs
Hip dysplasia
Arthritis and bone disease are very common in dogs and usually take one of several types.
These include hip dysplasia, dislocation of the kneecap, arthritis of the elbow, swelling and pain in the leg bones, and degeneration of the shoulder joint.
What Is Hip Dysplasia?
Hip dysplasia is an abnormal formation of the hip sockets that allow excessive movement in the joint, this condition often leads to arthritis and in some cases unfortunately, lameness.
Although mostly seen in larger or giant breeds, it can also appear in smaller breeds too.
Dislocation of the kneecap is a malformation of the leg bones which causes the kneecap to continually pull out of its place and slip back and forth, creating a low-grade inflammation.
Arthritis of the elbow is a hereditary condition caused by improper bone formation.
Swelling and pain in the leg bones is caused by insufficient production of vitamin C, which results in poor nutrition and heredity.
Degeneration of the shoulder joint is the breakdown of cartilage in the shoulder causing inflammation and pain when moving.
These conditions are mostly hereditary and could be prevented if the female dog were fed properly throughout her pregnancy.  The period of growth inside the uterus is most vital in terms of the formation of structure and essential tissues.
Proper nutrition is a must during this stage, try not to give your dog commercial foods and only feed natural and wholesome meals and snacks.
Natural Ways To Prevent And Treat Joint Pain And Arthritis In Dogs
Giving your dog vitamin C on a regular basis also decreases or prevents some of these conditions from developing.  Supply your dog with 250 to 2,000 milligrams of vitamin C per day, depending on the age and size of your dog.  For example, a small Chihuahua puppy should get a dose of 250 milligrams per day and a large Doberman would get a dose of 500 milligrams per day.
Prevention is vital in order to prevent the development of these conditions.  However, if any of the condition already exists, there are several things that you can do to decrease your dog's pain and discomfort.
The first step to proper treatment is to feed your dog with natural diet as much as possible.  Include vitamin C per day, using between 500 to 2,000 milligrams depending on the size of the dog.  Divide the daily amount and give it to your dog twice per day.
Other vitamins and supplements that are important are combinations of vitamin A, vitamin D, and vitamin E.  Also consider including raw vegetables in your dog's diet.
Glucosamine supplements will also help naturally heal the underlying cause of arthritis and joint pain. They are very popular with pet owners because of their overwhelming success in improving their pet's health and happiness.
It's worth noting that not all glucosamine supplements are the same, and it's important you give your furry friend the recommended dosage.
In addition to providing your dog with good nutrition, you can also use natural treatments such as homeopathic and herbal remedies.  Consult with a vet specializing in natural health care to determine which one best fits your dog's needs.
Finest For Pets Supplements
After many years as a pharmacist, I decided to dedicate my knowledge to helping pets. I named my company Finest For Pets because I use my insider knowledge to source the best ingredients for our supplements – we have one quality – the Finest! You get 30 years of pharmacy expertise in every bottle.
Our goal at Finest For Pets is to naturally treat the underlying cause of joint pain with healthy supplements, rather than hide the symptoms with long-term pain medication. We've helped thousands of pets to live healthier and happier lives – imagine how good that feels!
Check out my professional advice and recommendations in the following article 'Arthritis and Joint Pain Treatment For Dogs: Glucosamine Supplements'.
Introducing Rejenease
Rejenease is specially formulated to relieve these painful symptoms by treating the underlying cause and repairing your dog's damaged joints. Many customers report remarkable improvements in mobility within days.
Health Benefits of Using Rejenease
So what are the health benefits of using Rejenease? 
Restores energy, mobility and joy
Reduces swelling and tenderness
Repairs stiff, worn joints
Powerful natural pain relief
Protects younger dogs & at risk breeds
Why is Rejenease the Best Glucosamine Supplement for Dogs?
1. You can expect to see fast, dramatic results:
7 DAYS: many of our customers begin to notice their pet moves with less pain and stiffness.
30 DAYS: dogs who have been barely able to move roll back the years and walk, run and play just like they used to.
2. Rejenease is better than tablets or chews:
Liquid Rejenease delivers more glucosamine for cartilage repair because it is absorbed faster than tablets or chews
3. Made with the best ingredients:
Every natural drop contains the best ingredients, trusted and recommended by veterinarians and 3rd party tested for safety and purity.
4. Rejenease gives your pet a dose that works:
Not all glucosamine supplements are the same. Many contain levels of glucosamine well below the recommended dose.
5. Easy to use and even the pickiest dogs love it:
Our liquid mixes easily with food or water to take the hassles out of supplementation.
6. Rejenease reverses joint damage transforming your pet's life:
A healthy dog's joints are protected by cartilage which acts like a cushion between the bones in a joint. Dogs suffer joint problems and painful arthritis as their cartilage wears out. Rejenease quickly repairs and rebuilds the protective cushions of cartilage.
7. Risk free:
Give your pet the recommended daily dose until you've finished the bottle. If you're not delighted with the results we'll give you all your money back, no questions asked.
Rejenease Customer Reviews
But don't just take our word for it, here are a few examples of what our customers had to say (all reviews can be verified on our website).
Thank you for all your reviews on Rejenease this product saved my beloved dog's life
Love this product
16 year min schnauzer now can run and jump, couldn't ask for more
Definitely buying again
Magic Juice
Excellent product!
Helps our dog move around better
It really does work!!
This supplement is a truly fantastic product
This product works for my senior Chow!
Amazed and happy!
Sold on Rejenease
Five Stars
Great product for arthritic or aging dogs!
Excellent supplement!
Wonderful Results
Bought it and am so happy I did
Regenease with every meal!
Super pleased!
Would recommend this product
Amazing product and caring company
Love it!
It has been a lifesaver
Dog is more comfortable
A miracle cure for us!!!
Rejenease - exceeds marketing claims - works !!
Give Your Dog Rejenease: The Best Glucosamine Supplement and watch their happiness and energy return as their pain and discomfort disappears.
Further Reading...
For further information on arthritis and joint pain in dogs, check out the following articles:
Preventing Joint Pain and Arthritis In Dogs
Arthritis and Joint Pain Treatment For Dogs: The Benefits of Using Fish Oil
Dog Health: Understanding The Benefits of Joint Repair Chews