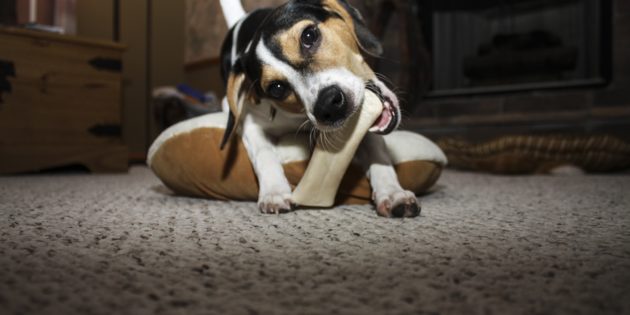 All humans love a treat, and dogs are certainly no different. It goes without saying, that as a dog owner you want to make sure that you are picking the best treats for your dog such as a healthy nutritional chew.
Dogs tend to link treats along with love and affection, and used correctly, treats can be a powerful tool for you as the owner to use as a reward for your furry friend.
Offering Your Dog A Healthy Reward To Reinforce Training
As dogs love treats so much, offering your dog a healthy treat such as a chew to reward them will help reinforce training and enable them to respond positively.
You should always at the least make your dog "sit" or "stay" before offering a treat. Of course the over use of treats can also mean that you lose your persuasive power over them so use treats in moderation and you will be fine. Remember to only give them when they are deserved and in moderation.
The Best Time To Reward Your Dog
The best time to reward a dog is when they have responded positively to a command or for good behaviour such as not jumping up at every guest that enters the door for example.
When they understand that there is a reward on offer if they complete a certain action or abide to a certain order, they are even more very likely to oblige. Even the most-stubborn dog will definitely react if a reward is on offer.
Choosing The Right Chew For Your Dog
To ensure the good health of your dog, you always want to be sure that you are choosing chews that:
Come from a trusted source
Have some nutritional value
Have added health benefits
Your dog likes them!
Choosing a trusted source is very important. There was a scare a few years ago with contaminated dog treats that were making dogs sick. Using a trusted source can eliminate the concern about the safety of the treats on offer.
You also want to make sure that you are choosing treats (as you would choose snacks for children) that bring some nutritional value to the table. Empty calories may taste good but over the long term they can cause health problems.
Finest For Pets Supplements
After many years as a pharmacist, I decided to dedicate my knowledge to helping pets. I named my company Finest For Pets because I use my insider knowledge to source the best ingredients for our supplements – we have one quality – the Finest! You get 30 years of pharmacy expertise in every bottle.
Our goal at Finest For Pets is to naturally treat the underlying cause of joint pain with healthy supplements, rather than hide the symptoms with long-term pain medication. We've helped thousands of pets to live healthier and happier lives – imagine how good that feels!
Check out my professional advice and recommendations in the following article 'Arthritis and Joint Pain Treatment For Dogs: Glucosamine Supplements'.
Introducing Finest For Pets JointRepair Chews
Not only are JointRepair chews a tasty and nutritional treat, they are also specially formulated to help relieve stiffness and sooth joint discomfort, found in dogs with arthritis or suffer from joint pain.
Many customers report remarkable improvements in mobility within days of using JointRepair chews.
What Are The Health Benefits of Using JointRepair Chews?
So what are the health benefits of using JointRepair Chews? Let's look at 5 of the top benefits:
Eases stiffness
Promotes mobility
Safer than painkillers
Soothes joint discomfort
9 naturally powerful actives
Understanding The Quality of Joint Repair Chews
In this day and age, consumers are more conscious about what they feed their pets rather than what they feed themselves.
JointRepair chews use no water, which can produce mold, and no heat, which can change the integrity, viability and structure of the food.
JointRepair chews are free of corn, wheat, sugars, salts, excipients, binding or gumming agents and artificial colors, making them safer and healthier.
Every single product we produce goes through a full micro analysis test, performed by an independent, third party lab, testing for toxins. This extensive process enables us to make the most highly functional and palatable dog products, assuring every chew that leaves our facility is of the highest quality.
The Benefits:
No Heat Process-integrity of Active ingredients maintained
No added Sugar
No added water
No Artificial Flavors or Preservatives
Why is JointRepair the Best Hip & Joint Supplement for Dogs?
1. You Can Expect To See Fast, Dramatic Results:
7 DAYS: many of our customers begin to notice their pet moves with less pain and stiffness.
30 DAYS: dogs who have been barely able to move roll back the years and walk, run and play just like they used to.
2. JointRepair Contains 9 Naturally Powerful Active Ingredients: Each chosen to help improve the health of your pet's joints and to relieve pain and discomfort.
3. Made With the Best Ingredients: Every tablet contains the best ingredients, trusted and recommended by veterinarians and 3rd party tested for safety and purity.
4. JointRepair Gives Your Pet a Dose that Works: Not all hip & joint supplements are the same. Many contain levels of active ingredients well below the recommended dose.
5. Easy to Use and Even the Pickiest Dogs Love Them: Each chew has a delicious chicken flavor.
6. JointRepair Reverses Joint Damage Transforming Your Pet's Life: A healthy dog's joints are protected by cartilage which acts like a cushion between the bones in a joint. Dogs suffer joint problems and painful arthritis as their cartilage wears out. JointRepair quickly repairs and rebuilds the protective cushions of cartilage. The Omegas and Organic Turmeric in JointRepair naturally reduce inflammation.
7. Risk Free: Give your pet the recommended daily dose until you've finished the bottle. If you're not delighted with the results we'll give you all your money back. No Questions Asked.
JointRepair Customer Reviews
But don't just take our word for it, here are a few examples of what our customers had to say (all reviews can be verified on our website).
Outstanding Product!
My 14 year old pug gallops around the house like he's 5 again!
JointRepair Works Great!
Surprising Results in Short time
These work and I'm saving a lot
Highly recommend giving this to all older dogs or any dog …
Our veterinarian asked what we'd given her
She loves them and they work!
Chasing and playing again
Great improvement with our dog
Awesome change!
5 stars & walking a lot better
Very pleased with results!
5.0 out of 5 stars. Magnus loves them
Her puppy friskiness has returned!
I can't belieive the difference
Give Your Dog JointRepair: The Best Hip & Joint Supplement and watch their happiness and energy return as their pain and discomfort disappear.